Here is the reason for the trip. Everything fell perfectly around this one event, Packers vs. Cowboys at Lambeau Field!
We started our trek by visiting Grandma in Milwaukee on the way to Green Bay from Chicago. She made us an amazing breakfast, homemade jam on toast, perfectly cooked bacon, and eggs. I think that Granmothers must be untouchable when it comes to cooking because everything was perfect!
We ventured on to Green Bay. Bryan was getting siked on the way up and had a hard time keeping calm.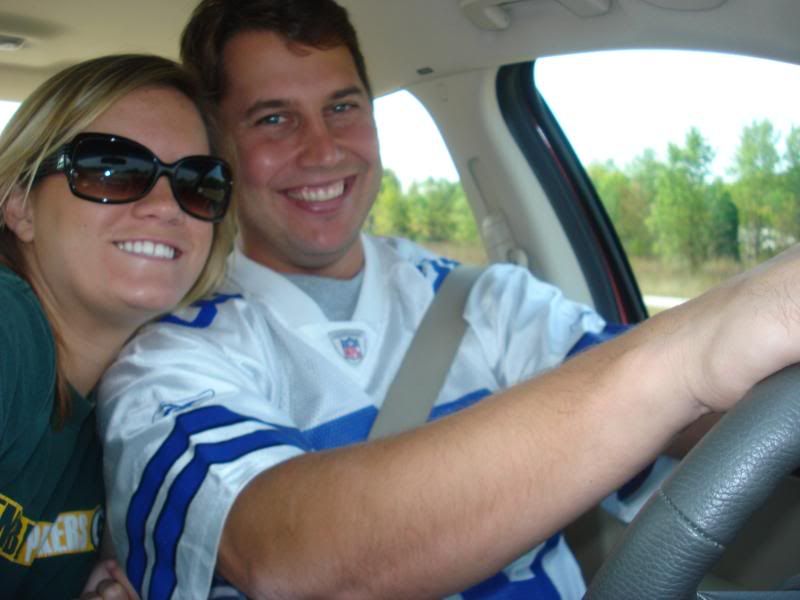 We arrived at my Aunt's house just outside of Green Bay. My Uncle John drove us to a restaurant called Titletown where my Aunt Laurie works.
I mistakenly ordered beer battered brats. Bryan made a wise choice and had the ribs, which were great. Here is a pic of the restaurant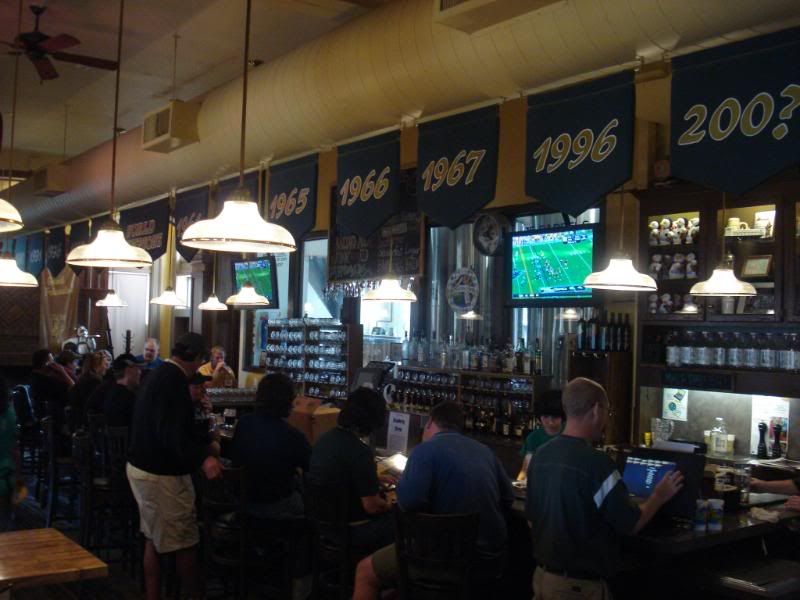 My Aunt and me
Then we met up with my Uncle Tim and cousin Terry at a place called Anduzzi's.
It was packed with tons of Packer fans a few Cowboy fans
We walked around to check out the sites and saw a few places like Brett's steak place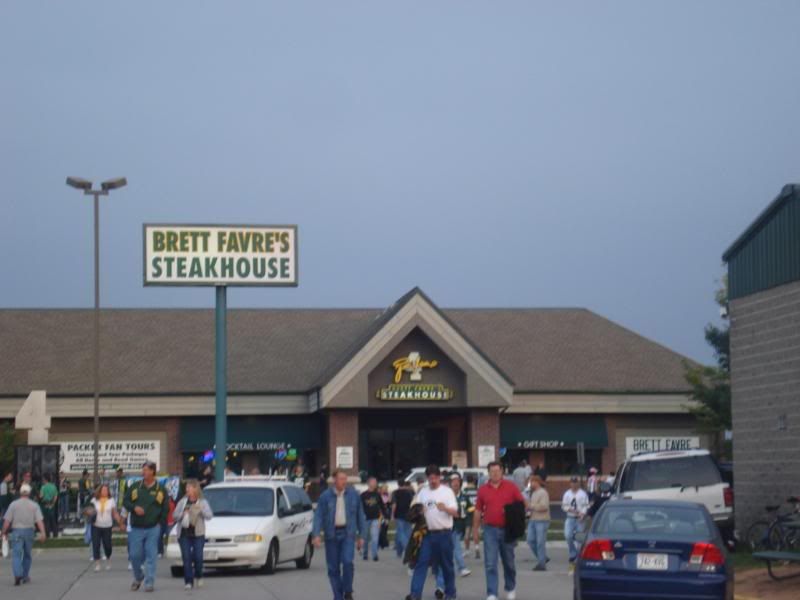 The usual Packer fan
Here we are walking up to the game. Bryan met a clan of Cowboys fans so I decided to walk in the opposite direction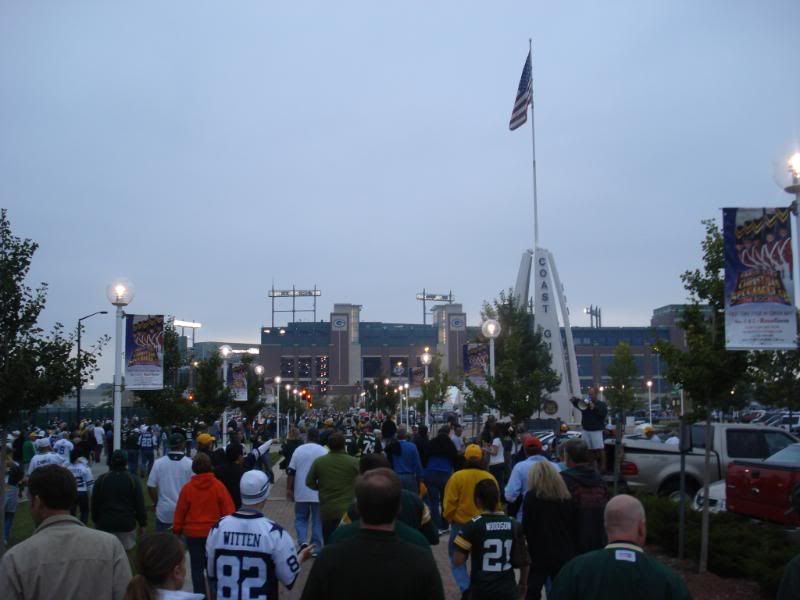 Here is the crowd as we enter the stadium. Everyone is chanting "Go Pack Go!" Love it!!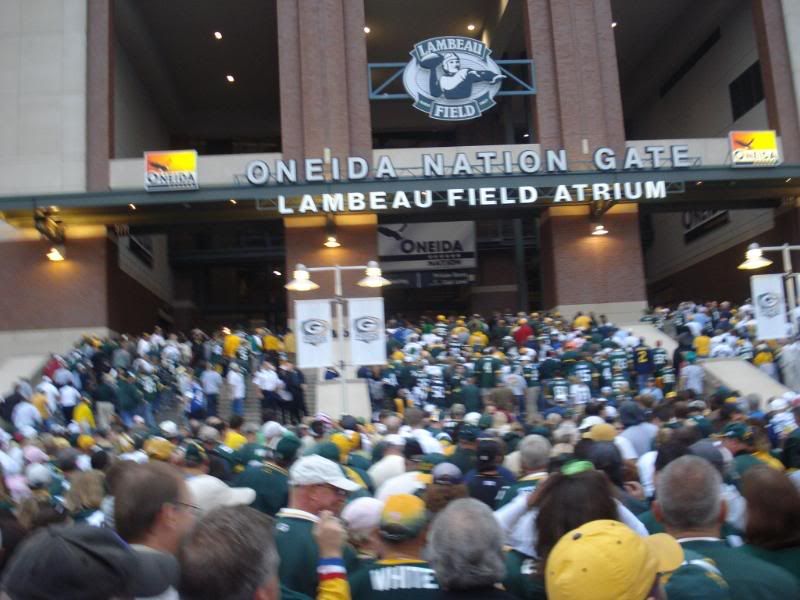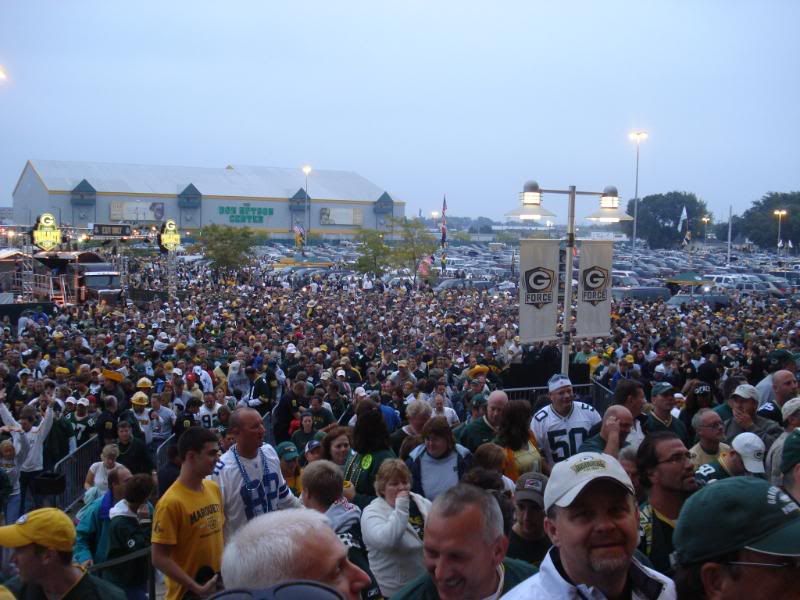 As we walk down to our seats
We sat in the 6th row in the endzone. My Uncle was very sweet and got us these great seats!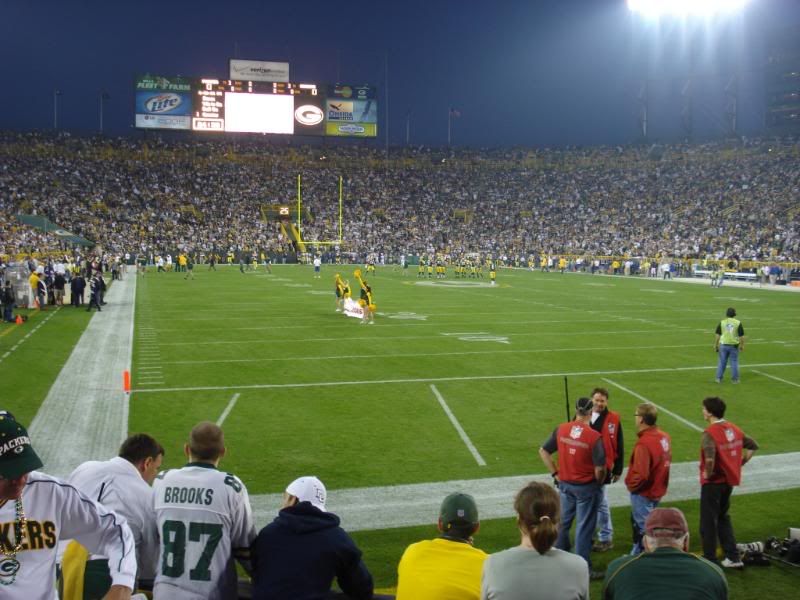 It was a full house! They gave away these awesome flags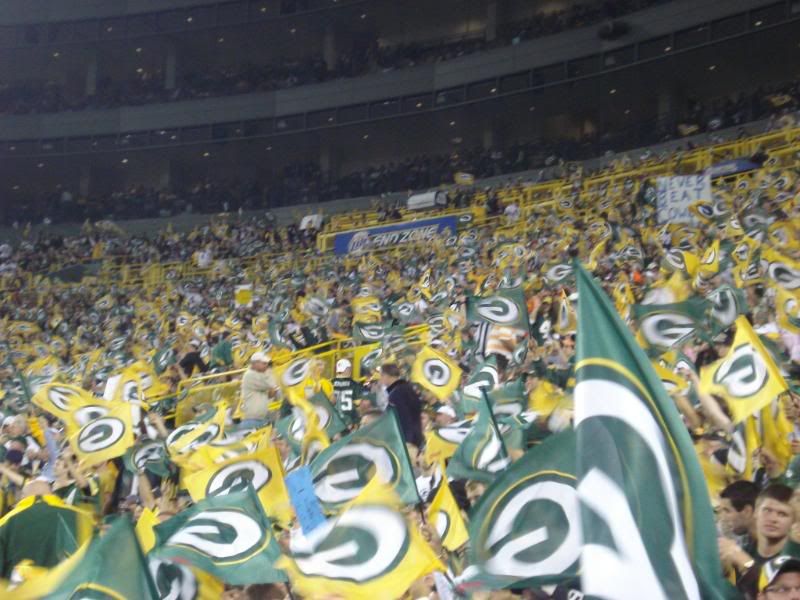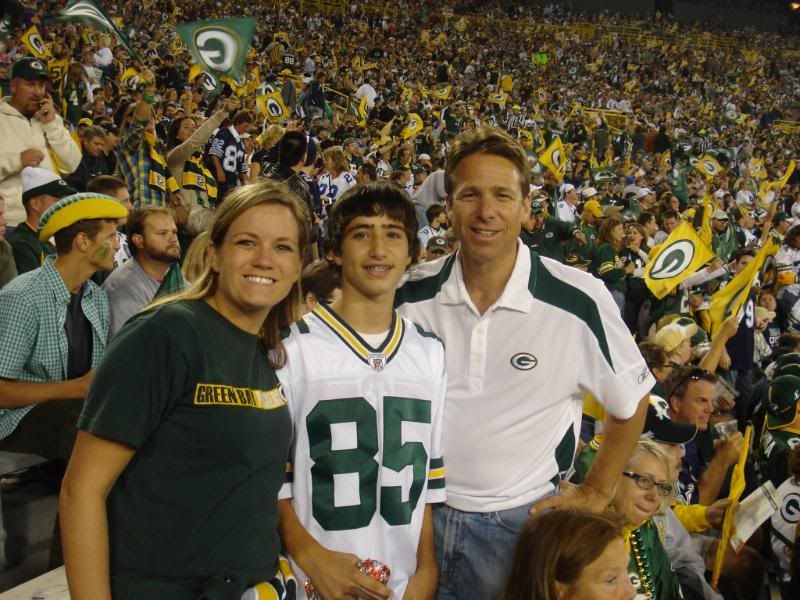 Here are a few Cowboys praying before the game
A couple close ups of the players. Bryan kept shouting "T New" whenever Newman came close to us
Here's my favorite close shot of Driver
Here's the final play of the game.
A few more close ups of us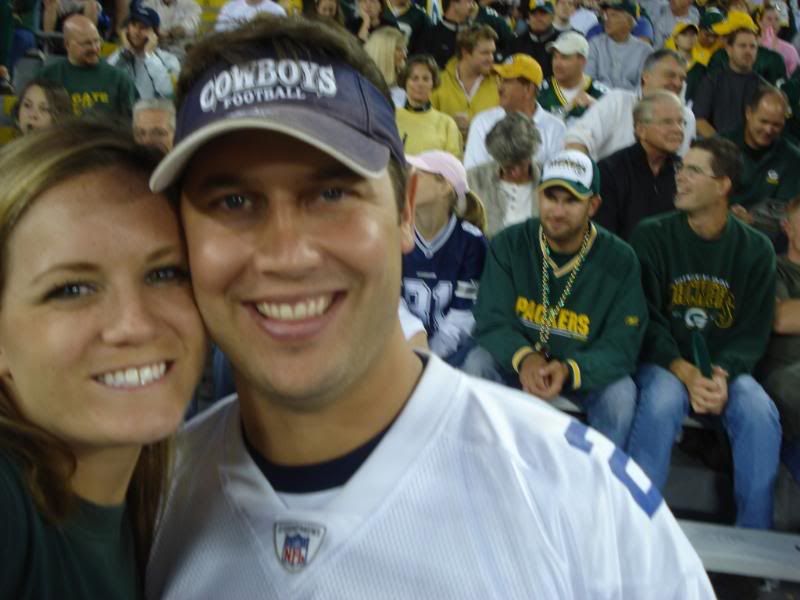 Unfortunately the Cowboys won 27-16. We had a great time despite the loss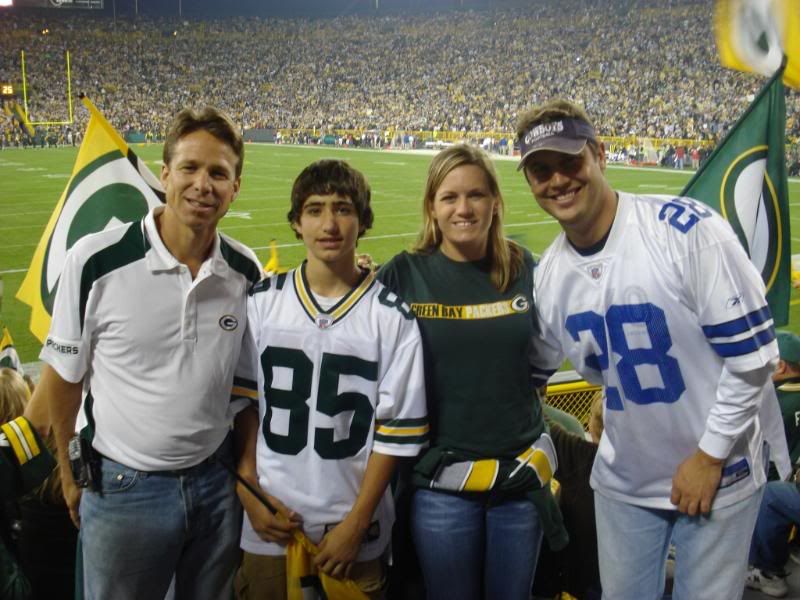 Since it was our our 1 year anniversary we made a sign that read,"First and possibly last anniversary"
We made it on the jumbotron!!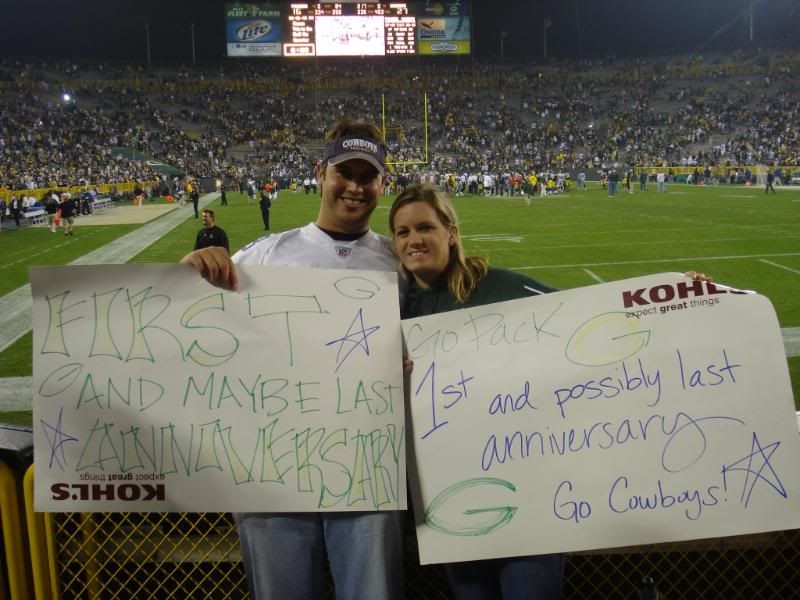 Amazing trip all around. A great 1 year anniversary!!